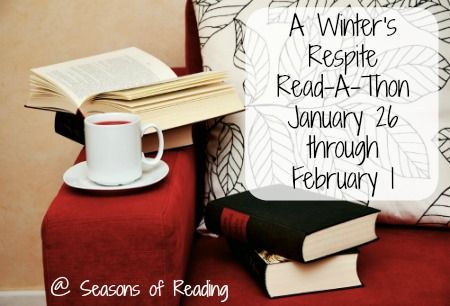 I read about a book a day during downtimes (I am a really fast reader).
I will likely have more goals before the end of the Read-A-Thon. :-)
I have 107 pages left to read for a review. A really good book but I am having a hard time concentrating to read. I love books with made-up languages and such. A chapter book that our children will enjoy for fun/homeschooling.
FINISHED!
Reading and reviewing this week. A world in catastrophe and Tess's father must leave her while he goes to search for her missing brother. Tess is not to open the door for ANYONE and her father is taking a long time to come back.
Approximately 263 pages (the rest after that is MANY promos of other books)
Progress:
106 pages read and I now there are vague clues about what happened.
Progress:
190 pages
FINISHED!
I am reviewing this at the end of January.
Progress:
I am on page 35 of approximately 209 pages
FINISHED!
I am on page 400 and will read as much of this as I can during the Read-a-Thon. This was my Mother's book. Somewhere, probably in my hope chest, I should have the copy of "Scarlett" my Mother gave me several years ago. I inherited "From Fields of Gold" and "Rhett's People" (which I had bought my Mother). I am thoroughly mystified as to how this book will end for Chess and Nate.
I get to interview
John Sadler
(a very knowledgeable battleground historian)! Currently, I am on page 52 of 344 pages. The book is about the Battle of Flodden-a massive battle fought between the Kingdom of England and the Kingdom of Scotland in the year 1513.
Progress:
I am on page 57 and seeing more of how determined people were to have this war. I am amazed at how few innocent parties I have found among the aristocracy so far. John Heron, Bastard of Ford seems to be aiming to have "bastard" be not only a descriptor of his parentage but also an adjective for his personality.
Progress:
Page 70. Consciences can be buried deep.
Progess:
Page 78
This comes highly recommended by several famous chefs and restaurateurs.