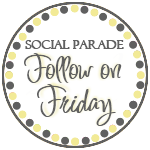 This is my first week participating in "Social Parade Follow On Friday."
Pleased to meet you.
I am a student of many subjects (autodidact right now...but educated in traditional classrooms and online as well). I want to open a coffee shop with a hobby store on the premises. I also intend to teach urban farming classes...and use some of the produce to fund my coffee shop, as a supplier to the coffee shop and to help others. I really want to help the hungry. To that end I am educating myself in business, agriculture and culinary...with bits and pieces of a few other things thrown in. If you want to do something, you should do it well (even if it takes a long time).
In my life:
-----Last night we had
Melt-In-Your-Mouth Chuck Roast.
We used a Lea & Perrin's Worcestershire that has garlic in it. A bit extra of the Worcestershire was put in as Husband is allergic to soy and I should avoid it (Worcestershire and water is a substitute for soy sauce and it has 80% less sodium). The dish was a tad spicy-I suspect the spiciness was amplified a bit by our choice of Worcestershire. Surprisingly, and happily, this did not set off Husband's acid reflux at all. The chuck roast was SO tender. There was a LOT of gravy-enough for mashed potatoes and plenty left over to save for another dish. This was a 10 out 10 for us.
-----This week the "cable" box was hit by lightning and now doesn't work. I put cable in quotes because it is just the standard channels and a bunch of home shopping channels...cheaper to get this if you want to get the internet and don't want to deal with the phone company (who is notoriously BAD). It will take a few days before we can get in to exchange the cable box and deal with Mediacom (who also has bad customer service...always trying to convince you that something is wrong on your end and prolonging the issue). My solution to entertainment/background noise with no TV?....putting in movies that I haven't watched for a while and playing each one until it gets boring. Other than missing the news and Jeopardy, life has been better without the TV.
-----My Christmas cacti are dying again. They always have their ups and downs.
-----I am on page 299 of
"The Last Samurai"
by Helen DeWitt. I got asked how this compares to the movie. This book is not the novelization of the Tom Cruise movie. The book is about a mother and son. It is also about the son's quest to find out about his father. Like William Faulkner, whom I used to detest, the story switches perspective and timelines. I guess that I have matured in my reading skills because I can now easily follow when a story skips from one person or timeline to another. :-)
-----My thyroid is doing well. I did not have to have the medicine upped this last time and my numbers are around the lowest I can ever remember them being. I have an
anti-thyroid anti-body
so I am greatly relieved by the current status (my thyroid is in the process of failing....but HOPEFULLY may never get there).