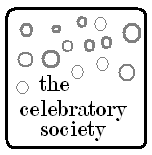 This will likely be a very interesting delurking project. I just learned about this project today and decided to participate. You can understand the project in full by
clicking here
, but in brief, the Celebratory Society is an online
festschrift
for a blogger--a way for you to tell me what my blog or actions mean to you. This isn't just about me--this is about you too. I would love it if you returned to your own blog, started your own Celebratory Society post, added it to the main project list, and gave me the opportunity to come tell you about...
you
.
This reminds me of the "living funeral" concept that I am so enamored of....from the book "Tuesdays with Morrie" (like a festcrift, this true-life story takes place in academia). Of course, we really should tell people how much we love and appreciate them while they are ALIVE. I am told that many think the idea of a "living funeral" is creepy but one should have a CELEBRATION of loved ones in some form on a frequent basis....because you never know how long you will have people in front of you to say things to.
I always have this book by my bed....I first read it for one of my college classes. This brings me to a point regarding online friendships, like my feeling on this book, over time they interweave and grow for so many different reasons....as the Celebratory Society goes on, I am sure this will be obvious.