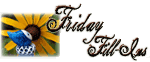 1. Good times: _____________.
For some reason this prompt had me craving McDonald's French fries. I think these are the fries that claim to be America's favorite fries.
-----
Chip Truck Fries
-----
Yuca French Fries
-----
Spicy Stir Fry French Fries
-----
Rosemary French Fries
-----
Perfect French Fries
(Emeril)
-----
Totally Tangy Baked French Fries
2. _________ my home.
I wish I liked my home. I love how pretty it is...especially the yard,kitchen and porch. I just feel like I am stagnating in my present location. I am trying to find a way to change this....but it just seems to be taking so long.
3. Sleigh bells ring __________.
are you listening? Some bells have the most annoying sound...so I wish I weren't listening. I have a set of bells that I sometimes experiment with playing (Jingle Bell,etc.). I wish that I had a more professional set of bells. Co-workers who obsess over wearing Jingle Bells at Christmas are annoying.
4. _____________ little.
Pray a little. I need to pray a little more and read my Bible more.
5. Once more ______________.
with gusto. Practice makes perfect. Sometimes it is frustrating when you don't know what it is that you need to practice....sometimes a subject is just too broad to easily break it down into approachable goals.
6. ________ end?
Happy
7. And as for the weekend, tonight I'm looking forward to _____, tomorrow my plans include _____ and Sunday, I want to _____!
Tonight----Watching Wall-E with Husband. I have heard that it is a really good movie. Husband has said that it is kind of boring though.
Tomorrow----Working on finishing my library books. Tidying a closet.
Sunday----Continue to tidy the large closet...mainly full of boxes with books in them.
Participate in Friday Fill-in #154