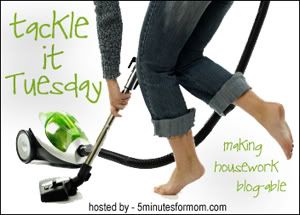 My Husband gave me "The City Tavern Cookbook" recently and I decided that it was too pretty to ruin. In fact, I decided that keeping my cookbooks in the kitchen is disastrous to their health.
The contents of my bedroom bookshelves don't get used as often as I would like. So the project is to sort through the bedroom shelves and to switch them for higher use of items....and also to store my cookbooks in the bedroom (their use in the kitchen will be facilitated by scanner,flashdrive and printer).
Yes, I am weird.
This will be a big task....I have 26 surfaces that qualify as my personal bookshelves in our bedroom (no, I am not kidding). For this week, I will see how far I can get but I am concentrating on relocating the contents of this one shelf....and moving in the cookbooks.
Participate in "Tackle It Tuesday."
__________________
One of my thrift shop finds that was on the shelf below the one I am concentrating on. I had to move it to keep the geodes safe while relocating them. Husband says my pencil holder/vase (sometime used as one sometime the other) is ugly....and teases me about it. What do you think....ugly or it has character?