1. Murder by Death-"Sometimes You Walk the Line;Sometimes the Line Walks You." It was put on YouTube by the record label that Murder by Death is on. I would assume this video is influenced by Johnny Cash. :-)
2.
One man is pretty much immune to electrical shocks.
I, however, am far from immune...I seem to attract lightning. I have almost been struck by lightning in daylight with no storm. When I am not having my hair stick up or my skin prickle, I do find it amusing. I have had a poster of lightning in my living room and even had a credit card with lightning on it at one point.
3.
Spinach Cheddar Swirl Meatloaf.
It looks kind of unsightly....but I am sure it probably tastes pretty good.
4.
Someday people may be able to be levitated?
I am wondering what this will mean for amusement parks (if it can every be brought to a safe level)? I would love to see a Super Mario or other type of video game ride in my lifetime....something where you could actually be part of the game. :-) Husband says.....what about an Iron Man ride? :-)
5. I didn't know that
female soldiers have been allowed to guard Buckingham Palace.
6.
Iced coffee with milk
...pretty simple. :-)
7.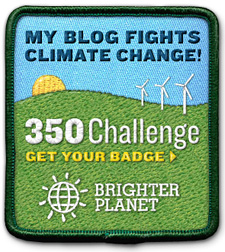 I was happy to find out about this via the "Cooking with Anne" blog. :-) It's a really simple thing to do and offsets a lot of carbon. If you look on the top right of this blog you will also notice that my blog is a "Green Website"....also offsets carbon. :-)
8.
Hard Rock Cafe opens an amusement park.
:-)
9.
When John Lennon saw a UFO.

10. The
man who prosecuted Charles Manson wants to see President Bush charged with murder.

He has written a book about why thinks this would be appropriate (and even gives advice to the legal team willing to take up such an endeavor). What are your thoughts on this and do you think it will happen???? I do know that there is one area of the country that has stated they will arrest President Bush if he comes there-I am wondering if they will be the first to attempt such a case against Bush.
11. A
recipe for Italian minestrone soup
with Coca-Cola in it.
12.
Scott Peterson will be on trial for wrongful death.
13.
Diet Cherry Cook Lentils.
That is an unusual idea. A simple recipe that I will try but only if I can find the version of Diet Coke that doesn't contain aspartame (aspartame is evil....read
this article
on AspartameKills.com ).
_______________________________________
Get the Thursday Thirteen code here!


The purpose of the meme is to get to know everyone who participates a little bit better every Thursday. Visiting fellow Thirteeners
is encouraged! If you participate, leave the link to your Thirteen in
others comments. It's easy, and fun! Be sure to update your Thirteen
with links that are left for you, as well! I will link to everyone who
participates and leaves a link to their 13 things.



LINKS TO OTHER THURSDAY 13's!

1. :-) Clara (this is her first Thirteen)
(Leave a comment & I will link to you here.)


View More Thursday Thirteen Participants

Non-Thirteeners are welcome to comment. :-)


Technorati tag:
Thursday Thirteen